MEDUSA
1. A daughter of Phorcys and Ceto, and one of the Gorgons.
Perseus and Medusa from Bulfinch's Mythology
Perseus was the son of Zeus and Danae.
His grandfather Acrisius, alarmed by an oracle which had told him that his daughter's child would be the instrument of his death, caused the mother and child to be shut up in a chest and set adrift on the sea.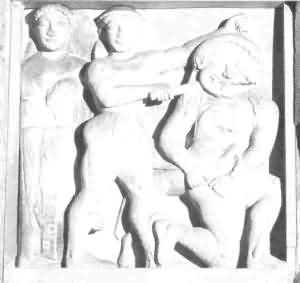 Medusa the Gorgon about to met her fate at the hands of Perseus, with Athena standing behind him.
An architectual sculpture from the ancient temple at Selinunte, Sicily
The chest floated towards Seriphus, where it was found by a fisherman who conveyed the mother and infant to Polydectes, the king of the country, by whom they were treated with kindness. When Perseus was grown up Polydectes sent him to attempt the conquest of Medusa, a terrible monster who had laid waste the country.
She was once a beautiful maiden whose hair was her chief glory but as she dared to vie in beauty with Athena, the goddess deprived her of her charms and changed her beautiful ringlets into hissing serpents.
She became a cruel monster of so frightful an aspect that no living thing could behold her without being turned into stone. All around the cavern where she dwelt might be seen the stony figures of men and animals which had chanced to catch a glimpse of her and had been petrified with the sight.
Perseus, favoured by Athena and Hermes, the former of whom lent him her shield and the latter his winged shoes, approached Medusa while she slept and taking care not to look directly at her, but guided by her image reflected in the bright shield which he bore, he cut off her head and gave it to Athena, who fixed it in the middle of her Aegis.
2. A daughter of Sthenelus and Nicippe, and a sister of Eurystheus.
3. A daughter of Priam.

[ See: The Quest For Medusa's Head