GRAEAE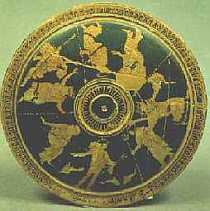 Pyxis Ática from the National Archaeological Museum of Athens showing Perseus stealing the eye from three Grææ
The Grææ were three sisters who lived in the Western extreme of the ocean. Their names were Deino, Pephredo, and Enyo, which mean "alarm," "dread," and "horror." They were the daughters of Phorkys and Keto.
that is, " the old women," were daughters of Phorcys and Ceto.
They had grey hair from their birth. Hesiod (Theogony 270) mentions only two Graeae, viz. Pephredo and Enyo; Apollodorus (ii. 4. § 2) adds Deino as a third, and Aeschylus also speaks of three Graeae.
The Scholiast on Aeschylus describes the Graeae, or Phorcides, as he calls them, as having the figure of swans, and he says that the three sisters had only one tooth and one eye in common, which they borrowed from one another when they wanted them.
It is commonly believed that the Graeae, like other members of the family of Phorcys, were marine divinities, and personifications of the white foam seen on the waves of the sea.
They dwelt near the entrance to the Underworld, and were the guardians of the Gorgons. They protected the nymphs, who protected Hades' invisible helmet and a pair of winged sandals belonging to Hermes. They also oversaw the safety of the shield of Athena.